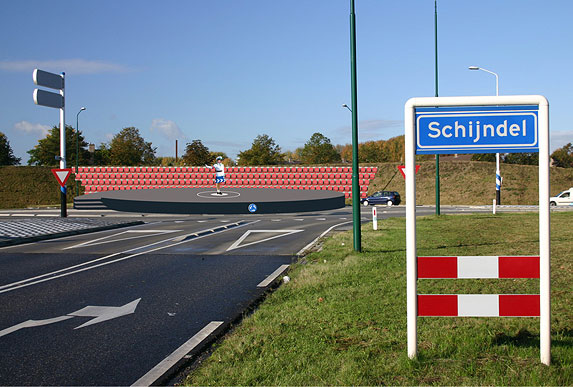 SCHIJNDEL - Whoever drives at 70km an hour round the Dutch village Schijndel sees almost nothing of this village. The only thing that is noticeable is the large number of roundabouts and the megalomaniac works of art on a number of traffic islands, which are the result of a tenacious policy on art instigated by the passionate, art-loving, ex-mayor of Schijndel. Ring-roads and bypasses reduce traffic in villages, an understandable development, considering the increase in motorised traffic, but the contrast with the function which main roads had in the past for villages and towns is enormous. They used to be lifelines. Along the road that ran through Schijndel there used to be a great number of inns, these days the only innkeeper on the current bypass is the petrol station. It would appear that you're not supposed to want to stop in Schijndel.
There is a huge contrast between the anonymity of the bypass and the rich social life of Schijndel where a great number of events are organised – the best known of these, pop festival 'Paaspop', opens the Dutch festival season. To counteract this contrast Sjaak Langenberg and Rosé de Beer have suggested transforming a roundabout, plus the sound barrier behind it, into an open air theatre which can be used for cultural events. Just as the Francorchamps race track speaks to the imagination even on days that no races are being held, this ring-road theatre will provoke the idea that something has happened (or is about to happen). Langenberg and de Beer have also thought up a fitting opening event for the ring-road theatre: the dance performance Kijkfile* through which, 54 years after the first traffic-jam in the Netherlands, they want to cause a traffic jam using dance. They've taken their inspiration from both sign language and North Korean traffic girls in Pyongyang who, due to the lack of traffic lights, direct the traffic. Despite their uniforms and the strict choreography of their motions, they appear quite fragile at busy crossings. The sign language of car drivers knows only a limited vocabulary and this will be expanded in the performance. After the event, the exotic image of the dancer on the roundabout will be circulated via bumper stickers and a video on Youtube.

* In Dutch there's a special word for traffic-jams that occur when motorists deliberately or inadvertently slow down to look at some incident in the other lane or at the side of the road – 'kijkfile'.


© Sjaak Langenberg & Rosé de Beer